Hello all you lovely people,
As you may be aware, today marks #100 years since women were given the right to vote, thanks to the empowering movement of the suffragettes. We feel it is a cause for celebration and recognition to all things feminine, so we have launched our week of colour PINK! Yes, pink is not a gender specific colour, we know this! However, pink symbolises sweet, nice, playful and innocence and we feel it's a wonderful choice to celebrate with.
Now, perhaps pink has only been a choice in your interiors for a child's bedroom, or perhaps if you indulged in a bit of pink throughout the 80s- so you're steering well away for 2018. Whatever the reason for your avoidance or not, we have compiled a few of our favourite pink inspired styles to add some sparkle to your home or business.
Firstly, our fabric featured above. Roaring leopards, retro pop-art and heritage tartans, all with a touch (or perhaps slightly more than a touch) of PINK. The pink, used here is a deeper, more vibrant pink than that of a blossom, however the design style chosen here means a more bold colour is a must-have, to really make the style POP! Consider combining these fabrics with grey tones, or be wild and combine with complementary greens for a real wow effect. Do you dare?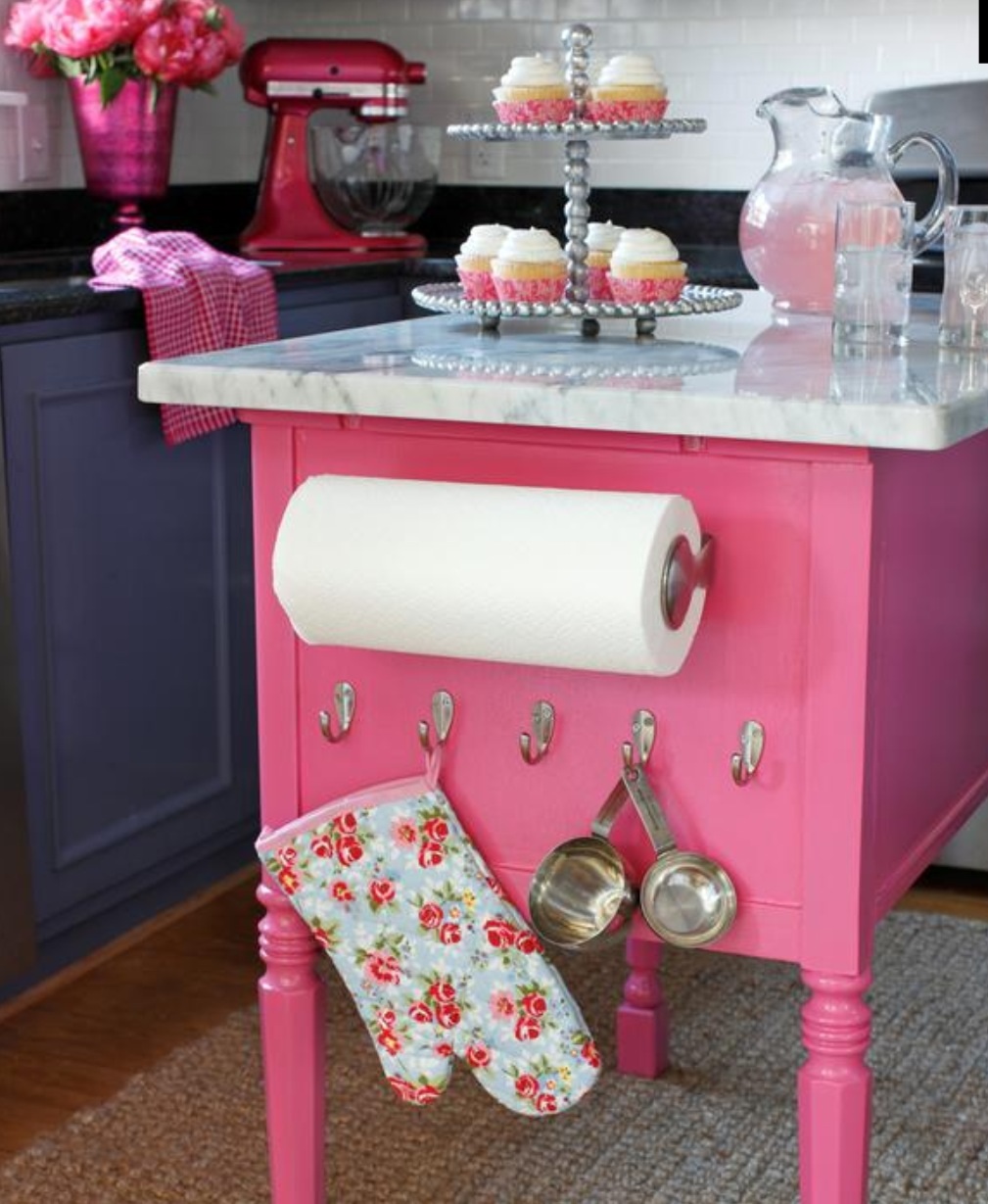 Oddly, we are more excited about the nifty storage in this next interior inspo- what a perfect place for the kitchen roll!? Teaming the accessories in this kitchen with the centre focal point, draws everything together. Own your space- if the kitchen is where you spend most of your time, then why not paint it a colour you enjoy? Image taken from Whim-inspired
Sometime, the tableware when people are designing their spaces gets overlooked. However, done right the table could become the centre piece of a dining room and a focal point brought out whenever required- or even just left out on display if you really want to show off 😉
This image taken from the wonderful Raspberry Bespoke events has inspired us for a huge event we are planning for. Our love of 70s interiors, as you're all now fully aware of, oozes out here with opaque pink flutes and gold accents. Adding gold to blush pink somehow removes it from baby zone into entirely regal and mature territory and we love the combo!
Once again, the pink is spruced up with green to add that complementary colour coordination, and allows the pink that extra platform to shout from. Love love love!!
Now, we have to admit, as much as up-cycling can really help save you money and deliver on exactly on what you need, we are only really enthusiastic about it, if we don't actually have to physically do it. This is a clear cue for when our contractors enter stage. However, once it has been done whether it is a project you decide to take on yourself or not, the results can be fantastic.
This image from Pinterest is actually quite an old one which we saved a few years ago. The Ikea chest of drawers, has been given a new lease of life with brass handles and a striking pink colour contrast. This definitely looks like it costs more than it (likely) did, and can be placed in any part of the house for that "ooh Sandra, where did you get that drawer set from?" – of course, its entirely up to you what you choose to disclose! Our advice, smile smugly and say nothing (otherwise all the neighbours will have you up-cyling!)
So that's all for today folks. We hope there's some inspiration for you to take away,  whether it's nifty storage ideas or adding striking fabrics to your interiors.
Be bold people!